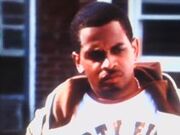 Season two: "Ebb Tide" (uncredited).
Season three: "Time After Time" (uncredited); "All Due Respect" (uncredited) and "Dead Soldiers" (uncredited).
Tank was a Barksdale organization soldier. He is first seen working with Country checking up on newly promoted crew chief Bodie Broadus as he makes a trip to collect a new package of narcotics. Tank is killed by Kimmy from Omar Little's crew, during a shootout following an aborted heist.
Ad blocker interference detected!
Wikia is a free-to-use site that makes money from advertising. We have a modified experience for viewers using ad blockers

Wikia is not accessible if you've made further modifications. Remove the custom ad blocker rule(s) and the page will load as expected.