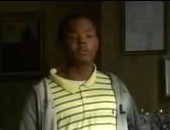 Sapper is a young Barksdale Organization enforcer working under Slim Charles. He often works with Gerard, and seems to be the less-intelligent of the two. He is probably best remembered for the line "Like a forty-degree day!" Sapper is first seen guarding the back door during an attempted heist by Omar Little. Gerard, Sapper and Dennis "Cutty" Wise were charged with finding a thief in the barksdale organization. Cutty's experience made the task simple and Gerard and Sapper punished the culprit with a savage beating. Gerard and Sapper were later thrown out of Avon Barksdale's homecoming party when Barksdale saw them come in high. Gerard and Sapper are later involved in the attempted shooting of Omar while escorting his grandmother to church in violation of the Sunday truce. They are ordered by Avon Barksdale to replace a hat that they damaged in this unsanctioned action. Sapper is arrested for weapons violations at the Barksdale safehouse.
Ad blocker interference detected!
Wikia is a free-to-use site that makes money from advertising. We have a modified experience for viewers using ad blockers

Wikia is not accessible if you've made further modifications. Remove the custom ad blocker rule(s) and the page will load as expected.