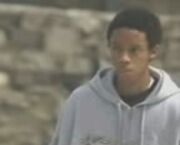 O-Dog is a young enforcer in the Stanfield Organization. O-Dog is played by Darrell Britt-Gibson.
Biography
Edit
O-Dog is a soldier being trained by Chris Partlow and Snoop. He is hanging out with Michael Lee when Monk Metcalf shoots Dennis "Cutty" Wise. Later, after Bodie Broadus is mistaken for an informant for the police, O-Dog murders him.
Appearances
Edit
Season four
the
Ad blocker interference detected!
Wikia is a free-to-use site that makes money from advertising. We have a modified experience for viewers using ad blockers

Wikia is not accessible if you've made further modifications. Remove the custom ad blocker rule(s) and the page will load as expected.