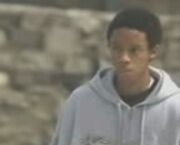 O-Dog is a young enforcer in the Stanfield Organization. O-Dog is played by Darrell Britt-Gibson.
Biography
Edit
O-Dog is a soldier being trained by Chris Partlow and Snoop. He is hanging out with Michael Lee when Monk Metcalf shoots Dennis "Cutty" Wise. Later, after Bodie Broadus is mistaken for an informant for the police, Chris and Snoop launch an attack on Bodie's corner in an attempt to kill him; as it seems Bodie is getting the upper hand on Marlo's enforcers in the ensuing gunfight, O-Dog emerges from a building behind Bodie and shoots him twice in the back of the head, killing him.
In season five, O-Dog is present at lieutenant Monk Metcalf's apartment to ambush Omar Little alongside Chris Partlow, Snoop Pearson and Michael Lee. He sustains a gunshot wound to the leg as Chris kills Donnie and Omar escapes by leaping from a balcony. Later, O-Dog is present before Maurice Levy alongside Snoop Pearson, he is picked by the Stanfield Organization to take the firearm charges of Chris and Snoop, who had been caught with weapons inside their truck a year earlier. This choice, much to O-Dog's disdain, is made due to his limited priors and lesser position in the organization. Later, after the police arrest Marlo Stanfield, Cheese Wagstaff, Monk Metcalf and Chris Partlow, O-Dog and Snoop meet Michael at his residence and watch the news report on the arrests. O-Dog questions whether he will still need to take the firearm charge.
Appearances
Edit
Season Four
Season Five