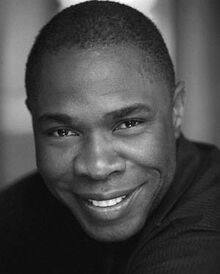 Michael Potts
is an American film, stage, and television actor and singer. However, his most extensive experience has been on the stage.
[1]
He originated two roles in the Tony Award winning musical comedy,
The Book of Mormon
. The original cast album, on which he sang its most famous song, "Hasa Diga Eebowai," won a Grammy Award in 2012.
[2]
Potts is best known for his performances as
Brother Mouzone
in the HBO series
The Wire
and
True Detective
.
[3]
He is a graduate of the Yale School of Drama.
[4]
Ad blocker interference detected!
Wikia is a free-to-use site that makes money from advertising. We have a modified experience for viewers using ad blockers

Wikia is not accessible if you've made further modifications. Remove the custom ad blocker rule(s) and the page will load as expected.